ALAIN Ellouz
1. First off, can you tell us a little bit about your background? Where were you born, and did you always want to be a designer when you were a kid?
I was born into a rather modest family of eight children. My parents were from Algeria and had lost everything when they arrived in Paris. They were not able to teach us about culture because it was not a part of their lives, but they instilled life's more essential values. They taught me that life does not wait for you and that you must keep moving to thrive. At 17 years old, my father pushed me out of the house because I no longer had my place there. I am grateful for that because it forced me to reinvent myself daily. I traveled the world and dabbled in all trades. Though I was often unhappy, I continued searching for who I really was. I thank my parents for giving me the chance to become what I am today instead of just a formatted product of society.
2. What made you decide to set up your studio in 2005 after a career in IT? What was the biggest challenge in creating your own brand at that time?
In 1985, I was 30 years old and created my first IT company. At the start, I knew nothing about computers, but I quickly learned. Most importantly, I learned the rules of marketing, sales and management, which were major assets when it came time to launch Atelier Alain Ellouz. After 15 years, I was no longer interested in IT and thus decided to sell my 100-employee company worth € 30 M in sales revenue. I was finally free again. I began sculpting stone in 1996 and it became my greatest passion. I drew a comparison between sculpting stone and how I would shape my own life.
3. At that point, you also decided to use alabaster exclusively. Why is that? Can you tell me when and how you discovered the material?
I didn't really make a conscious decision to work with alabaster, it was more of an encounter. One day, I was sculpting the stone and an idea emerged: why not create a new professional adventure using alabaster? I was unaware of the possibilities at the time, but an unmitigated trust formed between alabaster and me. Since then, we have continued to evolve together.
4. What's the advantage of using this material? Is it easily produced and acquired? And would you say that you've mastered its physical properties?
Alabaster is unlike any other stone. It is rich in gypsum and silica which gives it that uniquely transparent character. It is a remarkably young stone and still in the phase of expansion. In fact, the impressive patterns revealed through its translucency are actually molecules that are expanding. However, alabaster is so fragile that you can scratch it with your nail, and it is also porous. Aside from small objects, it cannot be used to create elements of design or furnishings. We dedicated years of technical work to make alabaster usable in architecture and elements of design. This specific know-how became Atelier Alain Ellouz' signature, making us the only studio in the world capable of working with alabaster.
5. You have been in the industry for quite some time now. How has your design philosophy evolved?
I was fortunate enough to meet Marion Biais Sauvetre. She was fresh out of design school as our workshop was just up and running. Marion is incredibly talented, and our workshop would not have reached the level it has without her. We brought our talents together to create a design style that resembles us. Marion leads the five designers in our design office, and they are free to unleash their creativity to continually move forward.
6. Why lighting design? When and how did your fascination with light come about? Did you ever imagine yourself designing something else, like furniture?
Light is the voice of alabaster. It awakens the stone, gives it radiance and makes it extraordinary. There are other types of marble that rival the beauty of alabaster, but once you add light to it, no stone in the world can compare! Over the past 15 years, we have explored countless ways to work with alabaster. We've designed architectural projects with 88-ft. alabaster walls, fireplaces, dance floors, furniture, tables, dressers, cabinets, wine cellars and of course lighting elements, some of them enormous and weighing more than a ton. The only place where we cannot use alabaster is outside where water, rain and wind can penetrate the stone and damage it.
7. Congrats on winning the NYCxDESIGN awards with Infinity Design. Can you tell me how this design came about? What was the inspiration behind it?
I love all the contemporary art museums around the world, and when I returned from a visit to London's Tate Gallery I envisioned a softly curved, sculptural form that unfurls freely and in total harmony with its environment. I do not search for inspiration from other artists, but I look deeply into their creations until something new emerges within me. Inspiration is like the wind; you have to open the window to your soul and the current of air will either enter or it won't. Infinity was a powerful wind that swept into me.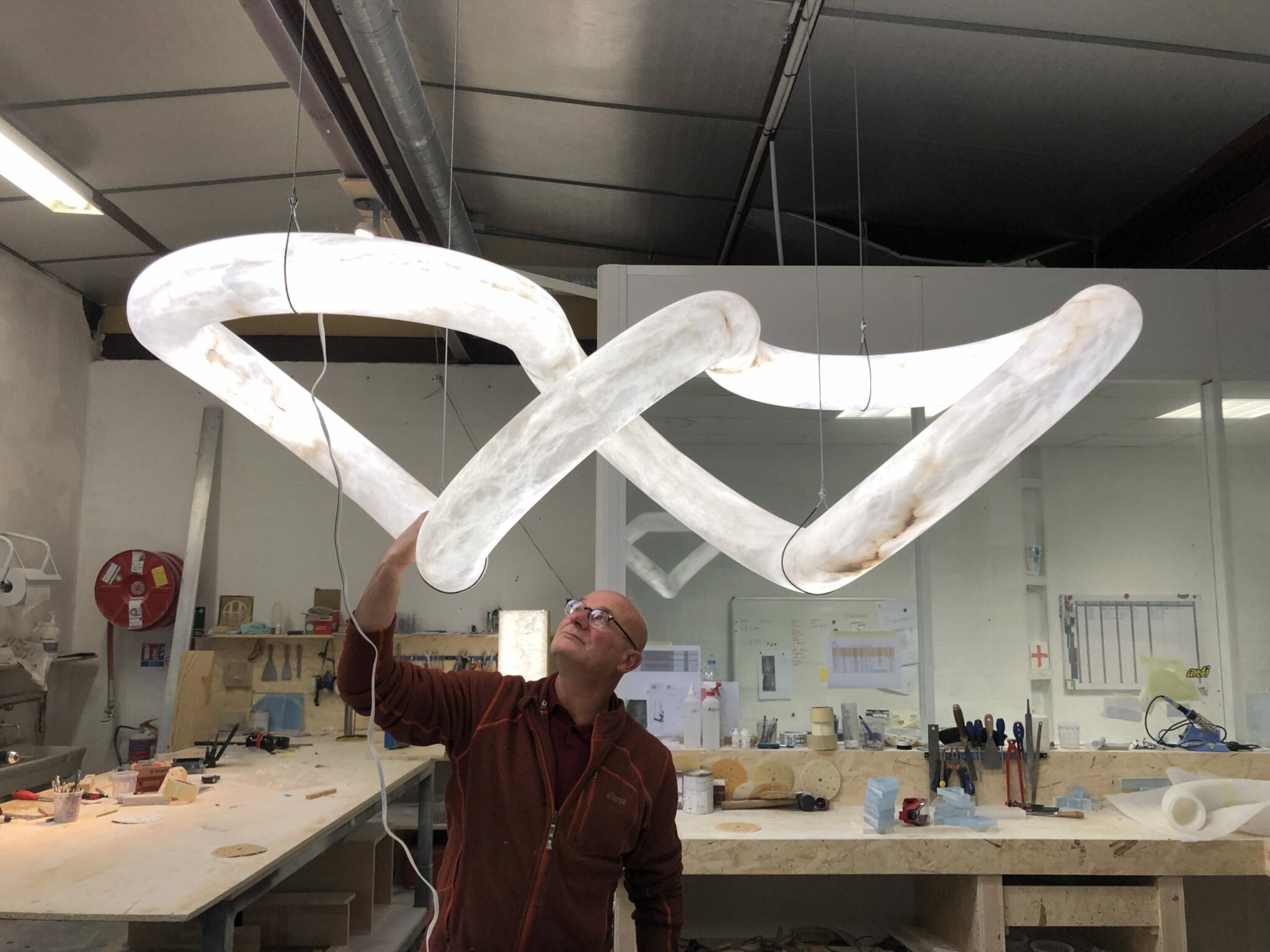 8. Infinity Design is also a collaborative project for which you invite interior designers from across the industry to work together. How do you select which designers to work with? And what is the secret to collaborating with different egos?
Until now, we have never looked to collaborate with other designers, but we will soon start a foundation dedicated to Alabaster Art and its aim is to collaborate with artists and designers. I am interested in working with others to invent new languages and explore new directions. Artistic adventure and experience are the foundation's buzzwords and the EGO will not be a central component. The greatest enemy of designers and artists is the ego. If we are motivated by celebrity, we've missed out on the essential. After all, art is pure, right?
9. Design has a bad reputation of creating too much product for the world. Do you agree to that? Do you think designers nowadays are too slow in reacting to the global crisis of climate change and the environmental problems?
Design has always been a driver of creativity. Charlotte Perriand, Le Corbusier, JM Frank, Pierre Chareau and Ruhlmann are examples of this. We all create to invent the future. Today, there are creators and copycats. Unfortunately, there is an increasing number of copycats.
10. You're based in Paris. What's the advantage of setting up your studio there?
I was born in Paris. My family, friends and culture are in Paris. I do not compartmentalize my life; my work and my social life are symbiotic. So, I would never move to NY just because that's where things happen or to pay less taxes. I prefer to share the beauty and true culture of France. I am grateful to France for my freedom of spirit, my love for design, my lifestyle and for its stunning landscapes. Through my work, I hope to share the poetic essence of France with the rest of the world.
11. How would you describe your design style? Can it be categorized as French design or does it have more of a global influence?
Over the past 15 years, we have developed a specific design style. It's refined, simple, effective and resembles who we are. You can always recognize an Atelier Alain Ellouz piece. I never look at what others are doing, and I am not interested in becoming the next inspiring design figure. I firmly believe that everyone has to find their own style.
12. You've mentioned that "the United States is the ideal country to create and succeed". Is that still the case? And what about China? Any plans to expand there?
I am grateful to the US for their incredibly open arms. In France, innovation is poorly received because of the country's strong ties to tradition. But in the US, they love creativity and newness, and they recognize beauty. Indirectly, we already work quite a bit with China where we have installed some magnificent alabaster creations in luxury boutiques for major brands such DIOR, Lecoultre, Chaumet, Van Cleef and Rolls Royce. Our alabaster design can be seen in many places across the region such as in Shanghai, Macao, Hong Kong, Beijing, etc. BUT, to really know a country – and China is much more than a country – you have to integrate it. Indeed, that terra incognita offers a fabulous project for me in the future.
13. Lastly, has the pandemic affected the way that you and your studio work? If yes,how did you remedy that?
For every problem, there is a solution. We took advantage of the time we had to create a new department: EDITION. Edition is a new range of luminaires designed for sale through a worldwide network of dealers and showrooms. In two months, we developed the offer and closed deals with ten or so of the world's leading showrooms and I hope we will soon have a major partner in China.