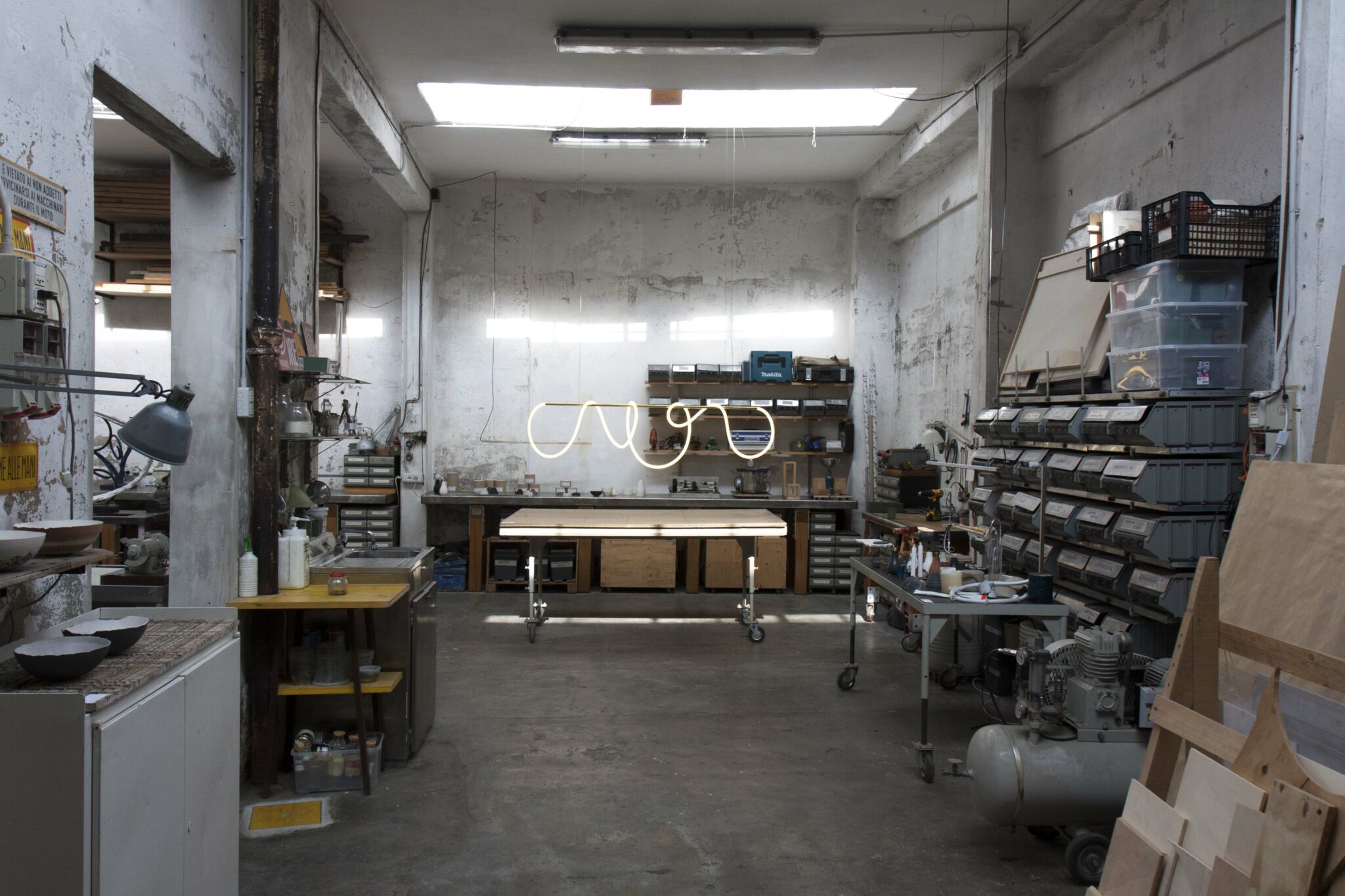 Behind The Scenes : MORGHEN
Since our inception in 2014 we have tried to keep within MORGHEN all that passion for research that we could no longer find in previous studios and work situations. Since the very beginning the aim was to carry on a practical approach.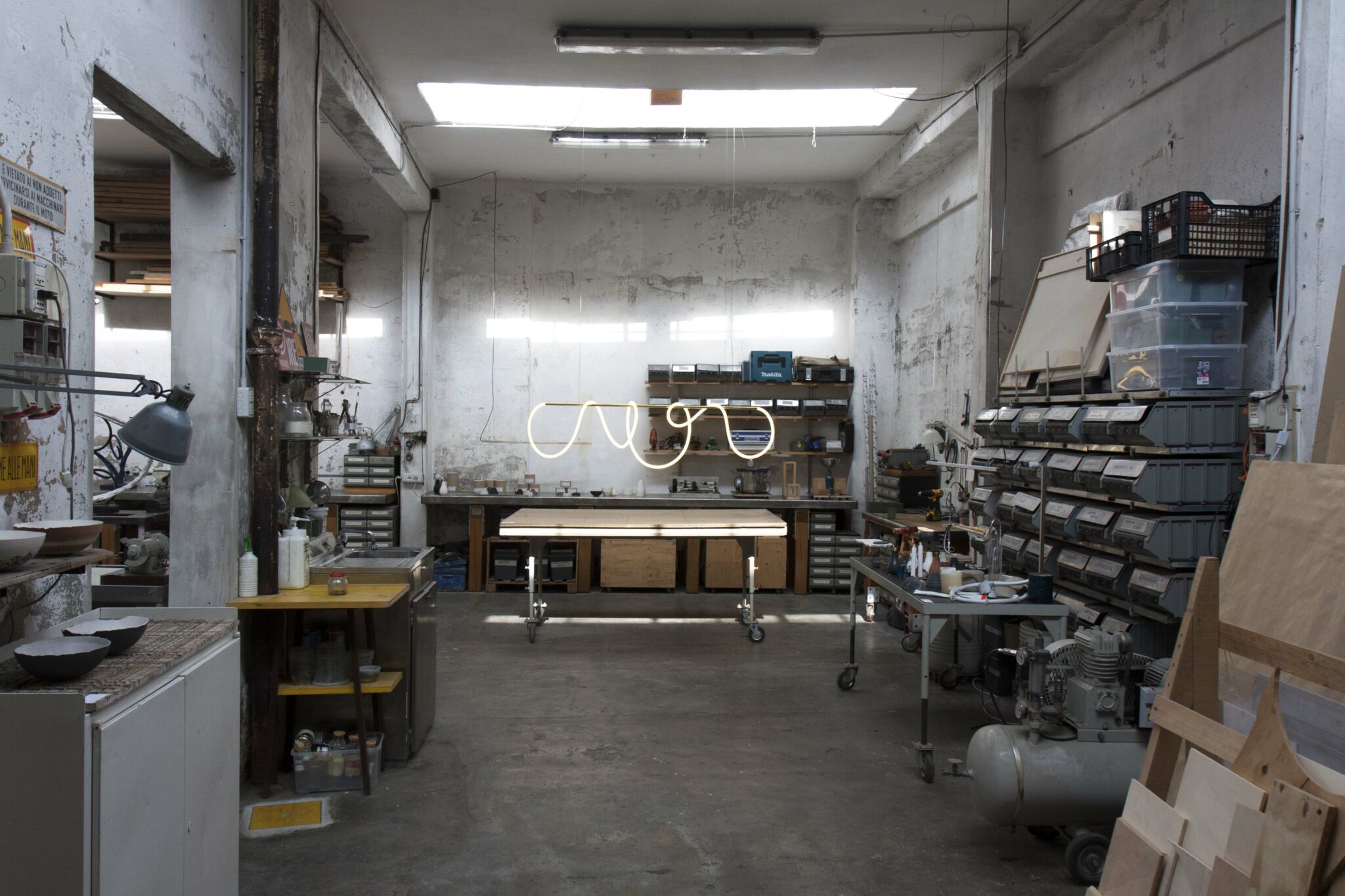 Morghen was immediately a design experiment, a place where to focus our attention on research, mostly empirical. The starting point is always different: a subject, a process, a material or a shape.
The material that most of the time lends itself to our research is Light, an intangible essence that ends its maximum expression based on the context and the elements it interacts with. A powerful and relative material that has the characteristic to change the perception of spaces.
Part of the experimentation is focused on the study and development of the technical components and the light source itself (LED). The other part is focused on investigating the processes, the shape and the effect on the space. Starting from commonly used materials such as silicone, fiberglass or metal sheets and shaping them we aim to reach new and unexpected results.
In projects like Calypso or Cascade this process is clearly evident. In the first, in order to research for an unexpected and pleasant diffusing material, we have investigated the properties of silicone sheets. Through a simple fold and subsequent anchoring in a profile containing the linear source, the diffuser is able to capture the luminous flow and to spread it pleasantly in the environment.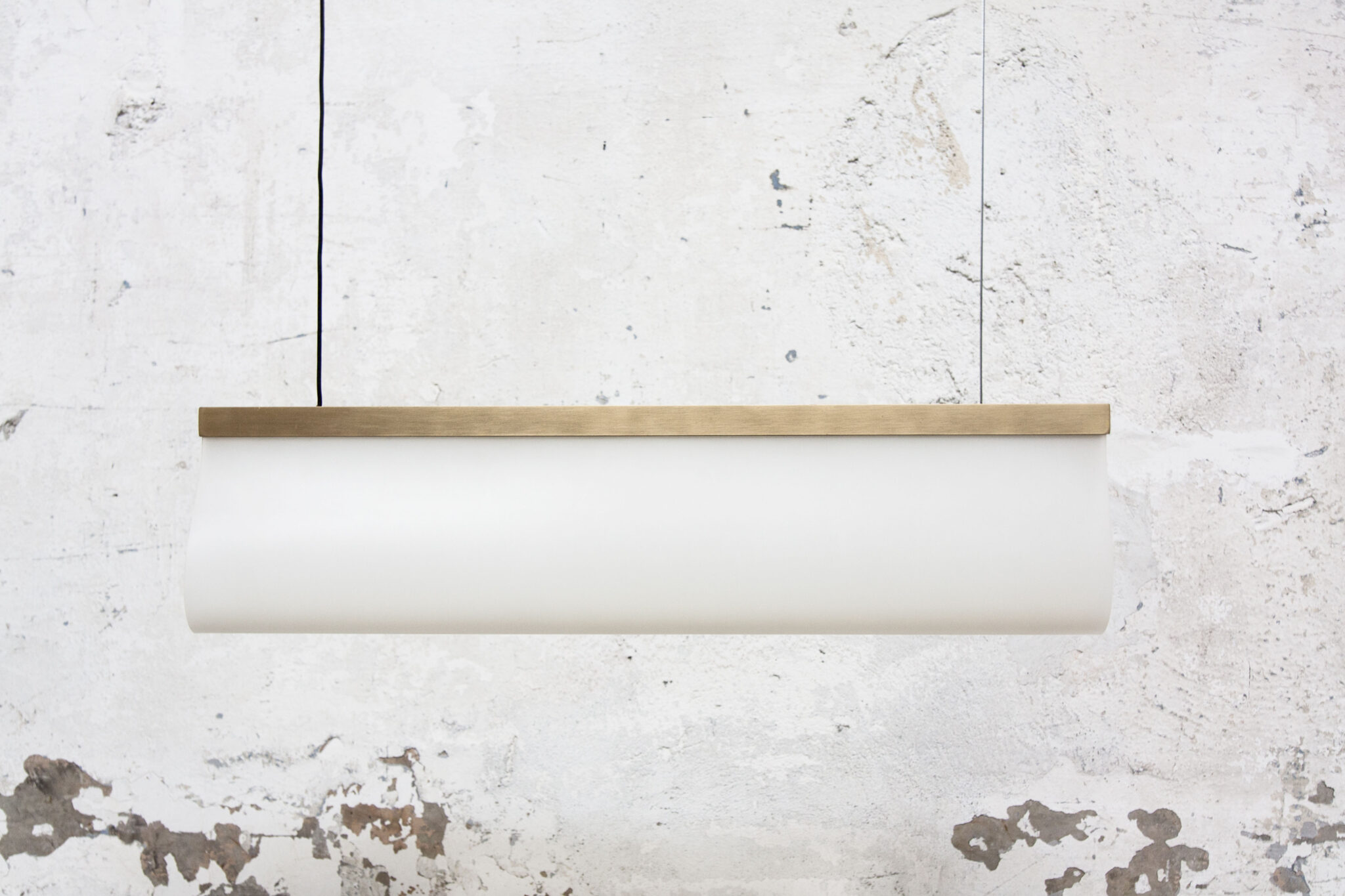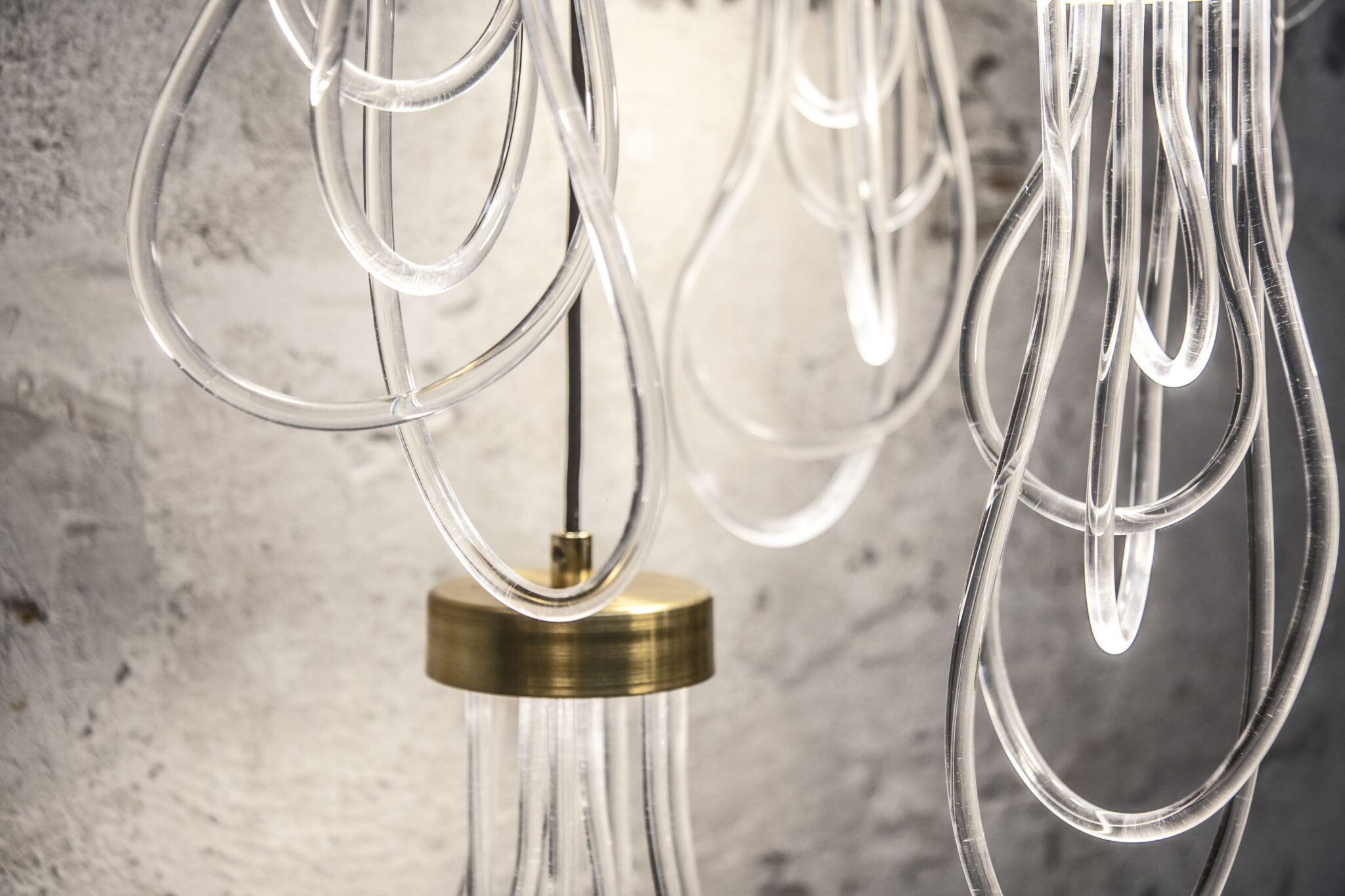 In Cascade instead, starting from a circular LED source contained in a
thin brass cylinder, the diffusion of the light takes place through flame-bent acrylic glass bars.
In the Shiva project  – and in the subsequent Itaca – we pushed our research on the propagation of the luminous flux, managing to incorporate the light source into a flexible diffuser tube, ennobling its appearance with an organza fabric sleeve woven over it.
The dualism of the technical/formal components is often manifest and the design development sometimes occurs through less-defined and more instinctive processes and actions.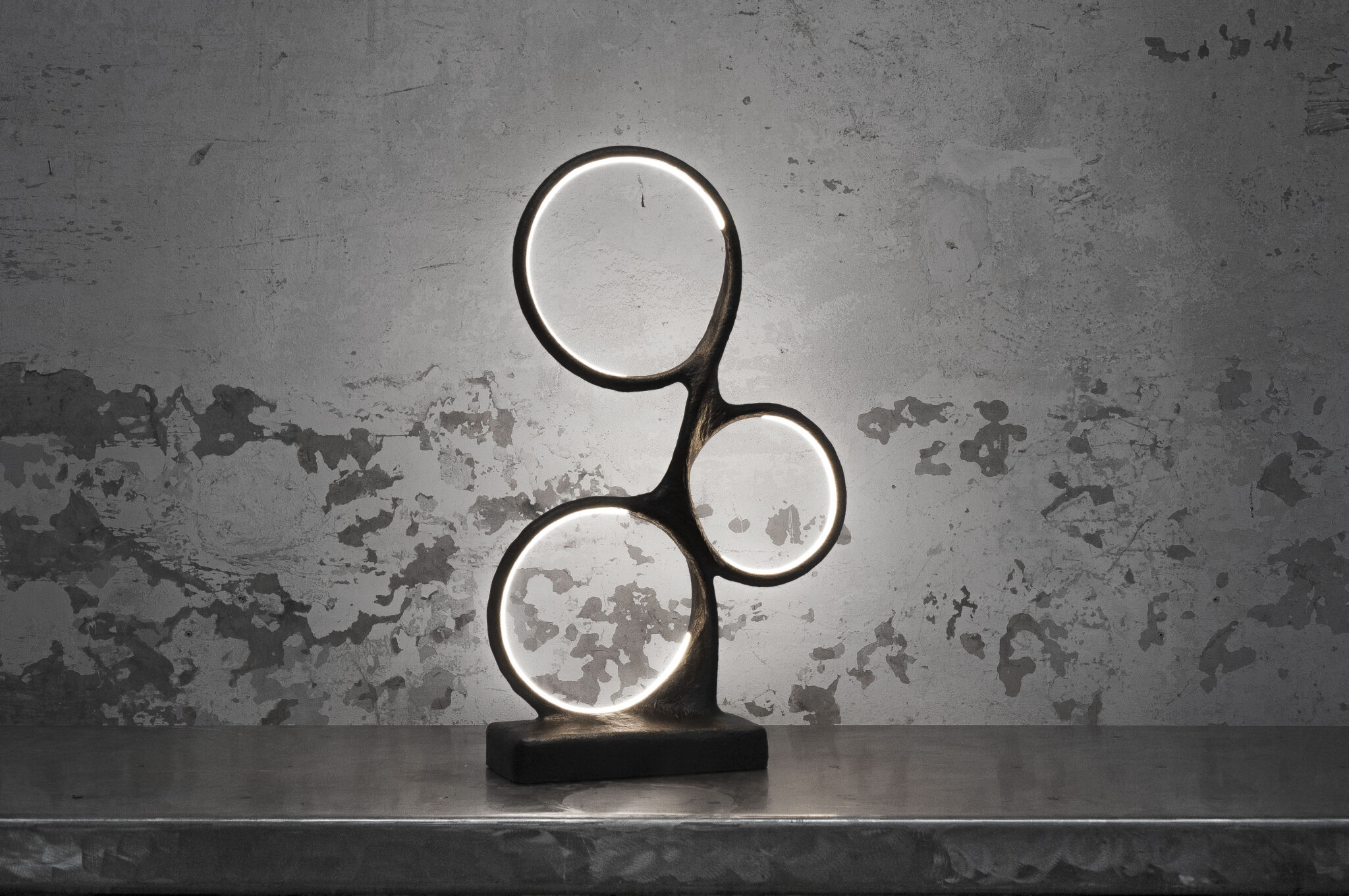 Autopoiesis and November Tango are two examples of this more formal
approach.
The context that surrounds us and in which we work allows us to team up with suppliers and artisans that are the core of Made in Italy and now suffer from the loss of local craftsmanship. Our work incorporates techniques and skills typical of the Italian craft heritage mixed with contemporary technologies and personal visions.