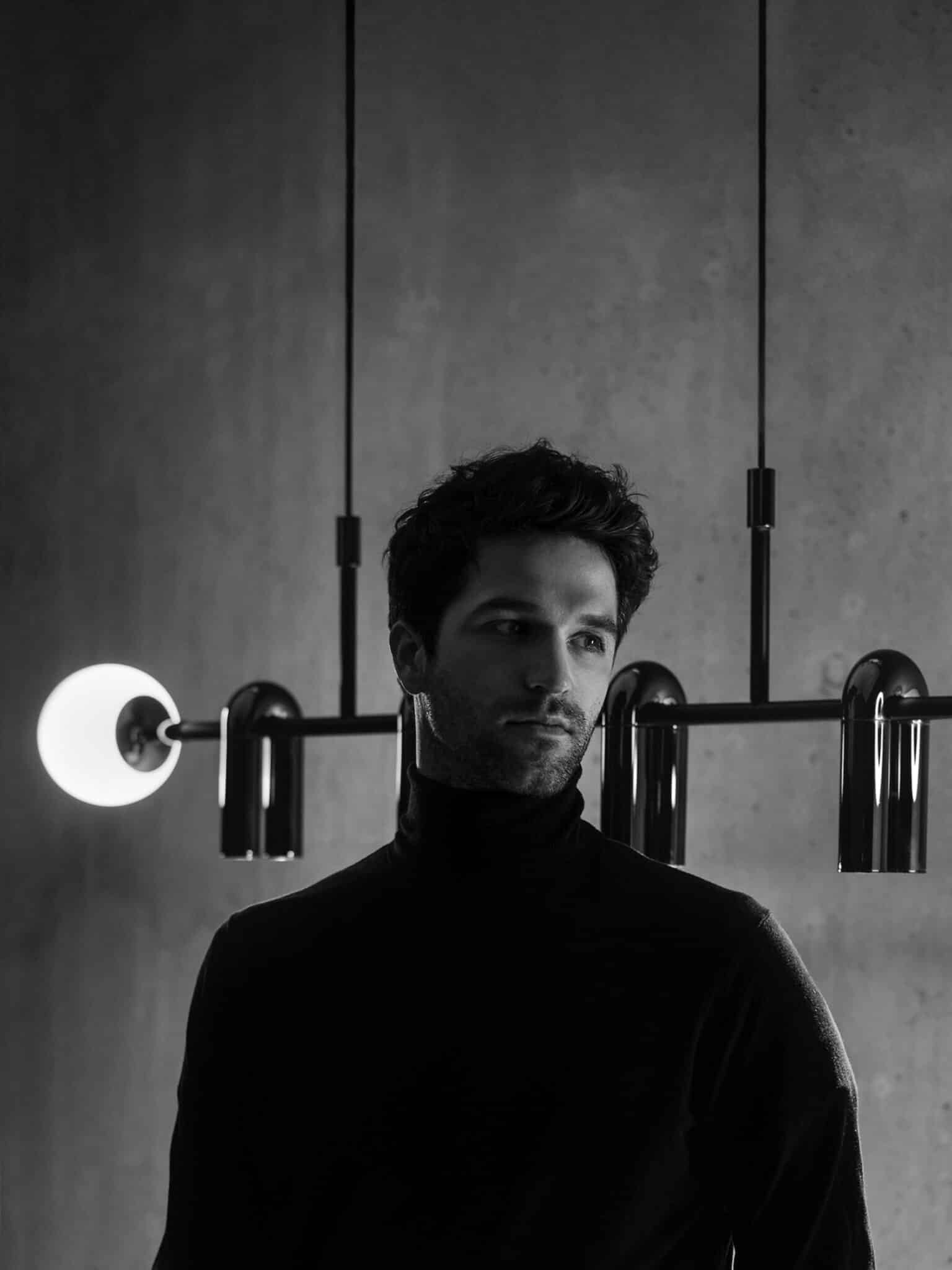 Piotr Dabrowa
1. Where were you born and where are you from ?
I was born in Wroclaw, Poland in 1990. I currently live here.
2. What is your first memory connected to the art world ?
My first memory related to art goes back to my childhood. I was surrounded by art from my early years because my grandfather was a painter. Every time I would visit my grandparents, I saw the house full of paintings and my grandfather working in his studio. I remember observing him working, telling me about his creative process, his inspirations, and ideas.
3. Have you always worked in the art/design field ?
No. I had been in contact with art from an early age, so I wanted to try different things during my school years, not necessarily connected to the arts or design. I even began studies at the University of Economics right after high school and tried to work in that field, but I quickly realised that that was not what I wanted to do with my life.
In 2010, I decided to enter the art and design world and began my design studies at SWPS University in Wroclaw and later at the Academy of Fine Arts in Wroclaw. Back then, I did not know exactly what I wanted to do, so I chose graphic design as my major.
Looking at this from my perspective, I think that was a great choice, and it resulted in taking up product design later on.
When I started learning about design and all aspects connected to it through my studies, I learned about balance, visual creation, communication, the harmony of shapes, etc. This knowledge enabled me to look at the world from a different perspective, noticing things I was not aware of before. For the next few years, I worked as a freelance designer dealing with clients from various fields and learning new skills. This experience gave me the knowledge and the ability to work and create my own visual language later.
4. What led you to the design creation ?
I started my career as a graphic designer; however, I had been missing something difficult to define.
A new job at a company selling furniture and lighting was a game changer;  I was responsible for all the creative work, saw the tangible products, tuned the photoshoots, and learned about the inventive process behind the pieces.
I started developing a love for the art of making things and visited different fairs and exhibitions in various countries, which opened new horizons.
But the actual shift happened when I got an opportunity to work at a lighting factory in China, where I was preparing the visual content for the Shanghai Fair; I was at the heart of the production and witnessed all the product-making processes. The factory owners asked me to try and design a lamp by myself. That was the moment I realized that was what I was missing during those years. I spent the next two years learning about the process—product design, experimenting with materials, and working with different factories on my ideas. I quickly learned 3D software to experiment with shapes. I realized that I could translate my knowledge not only into lighting but also into furniture. One thing led to another, and I made my first furniture piece.
In 2020, when the pandemic came, I had the most creative time working on all the ideas. I had the time, the focus, no distractions, and plenty of time to work. I established my practice, focusing on furniture and lighting products and exploring them in the 3D world and as tangible pieces.
5. How would you describe your creative process and it influences ?
I start with generating ideas, spending a lot of time researching and looking at different materials, going back to my favourite objects and art exhibitions, and looking at architecture. Whenever I have a chance, I try to travel, which helps a lot with the creative process. I always bring my sketchbook, make notes, and draw.
Once I come up with ideas, I usually prepare myself by getting into the zone of focus to free my mind from other distractions and concentrate on creation. I spend this time in my favorite place in the mountains. Then I began to let it go and experiment a lot without getting caught up in the execution or technique. Once I find something I like—a shape or an idea—I try to explore it in 3D. This way, I can try different shapes and materials and see how the object would look in the interior. I explore the models and shapes in VR before making a prototype to see its form. Only then, when I am sure about the proportions, do I begin the next step, which is working with the factory to check the technical aspects and choose the final materials.
6. Could you describe a typical day of your work ?
Usually I wake up pretty early, between 5 and 6. I work out first to start the day with a clear head and good energy. This part is pretty important to me, as it sets me up for the day.
I have my first coffee, listen to music, make notes, and draw some ideas. After that, all depends on my priorities. Some days I have to work more with the emails from the clients, factories, etc.; other days, I jump right into the 3D software, where I experiment with the ideas from my drawings, exploring them in digital dimension.
7. Why did you choose the specific materials you work with ?
I like to work with natural materials. I started working on my wooden furniture to later delve into marble. I'm impressed by the mesmerising range and uniqueness of the colours, veins, and structure of every marble block or slab, which makes each project original, extraordinary and one-of-a-kind in its form and texture.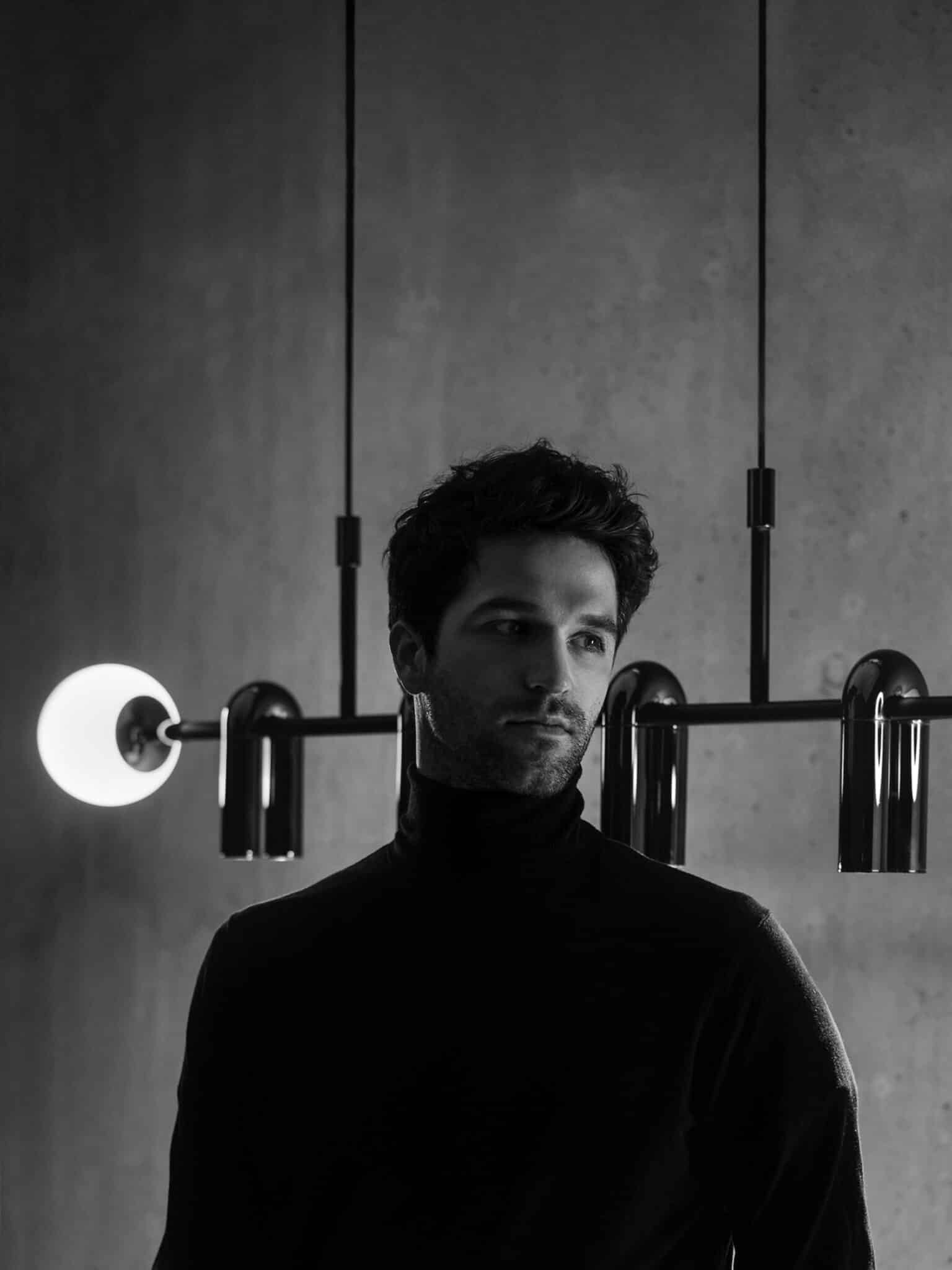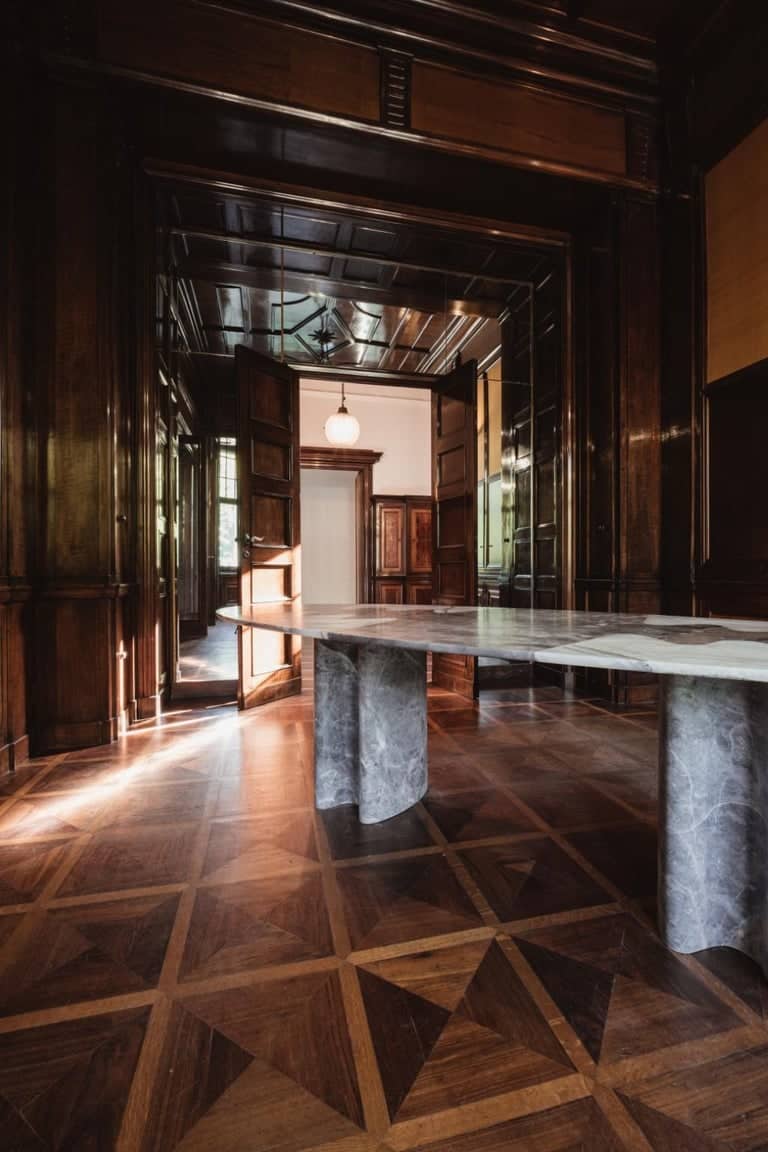 8. What are the technical particularities of your creations ?
Uniqueness and rarity thanks to the variety of each marble block. The stone can be combined with  glass, wood, or metal, which gives many possibilities.
9. What advices could you give to beginning artists who would like to create sculptural design works ?
Learn to enjoy and appreciate the process. Experiment a lot, travel, and visit different exhibitions and fairs. Get to know the market. Collaborate to get to know different perspectives and to learn. Try 3D.
10. If your works had to belong to a design movement, in which one would you define it ?
I am still learning and exploring new ideas, forms, and materials. I wouldn't want to define my works to a specific design movement . Not yet.
11. What designers have influenced you ?
Kenya Hara, Dieter Rams, Michael Anastassiades, Henryk Tomaszewski, Karol Śliwka
12. What contemporary designers do you appreciate ?
Vincent Van Duysen, Mathieu Lehanneur, Vincenzo De Cotiis, Joseph Dirand, Francesco Balzano, Maria Pergay, Jeremy Anderson, Gabriel Hendifar
13. What contemporary artists (in any kind of art) have you been inspired by ?
Constantin Brâncuși, Clyfford Still, Tada Ando, Christo and Jeanne-Claude, Wolfgang Tillmans, Jean-Michel Basquiat, Mies Van Der Rohe
14. If you had to summarize your creations in one word or sentence, what would it be ?
15. Is there anything you would like to add ?
Proust Questionnaire with very short answers (one or a few words) :
(The Proust Questionnaire is a set of questions answered by the French writer Marcel Proust. Other historical figures who have answered confession albums are Oscar Wilde, Karl Marx, Arthur Conan Doyle, Stéphane Mallarmé, Paul Cézanne…)
1. What is your idea of perfect happiness?
Being fully at ease with myself and having more good days than bad ones doing what I love.
2. What is your greatest fear?
3. What is the trait you most deplore in yourself?
I'm learning to be more assertive
4. What is the trait you most deplore in others?
5. Which living person do you most admire?
6. What is your greatest extravagance?
7. What is your current state of mind?
8. What do you consider the most overrated virtue?
9. What is the quality you most like in a man ?
10. What is the quality you most like in a woman ?
11. Which words or phrases do you most overuse?
12. Which talent would you most like to have?
13. If you could change one thing about yourself, what would it be?
I want to be more organized with my files
14. What do you consider your greatest achievement?
15. If you were to die and come back as a person or a thing, what would it be?
16. Where would you most like to live?
17. What is your most treasured possession?
18. What do you regard as the lowest depth of misery?
19. What is your favorite occupation?
20. What is your most marked characteristic?
21. What do you most value in your friends?
listening skills and honesty
22. Who are your favorite writers?
Milan Kundera, Susan Sontag, Ayn Rand
23. Who is your hero of fiction?
24. Which historical figure do you most identify with?
25. Who are your heroes in real life?
26. What are your favorite names?
27. What is it that you most dislike?
28. What is your greatest regret?
I don't have any. I believe in development and opportunities and do not dig in what if happenings.
29. How would you like to die?