Vegetal colors by Cedric Breisacher
From vegetal to colors, an old knowledge used to
stain natural fiber.
Once a piece of furniture is finished, the wood is sanded with a 180 grain-paper. Surfaces become soft as silk and all the texture is revealed thanks to the light spinning on the grain. Wood is raw. In my local area woods are very clear as ash, sycamore and even oak looks white. In order to enhance its veneer and avoid an orange old school finish, I choose to use natural staining. Which provides in a local area numerous range of colors.
Historically, natural dying was the only choice to color natural fiber before the emerging of industrial stain. It was a local resource for some region because tinctorial plants are only able to grow on specific ground. As Pastel or Isatis tinctoria which provide a Perse blue from its leaf. It made prosperous the land of Cocagne (Toulouse, Albi, Carcassonne) in south of France. Until the 16th century it was the only region able to provide blue in all Europe. Colors are rare, it became a source of distinction between class. Almost every local plant can give colors as grass or onion peels which provide a soft pink but to get a powerful red you need to use cochineal or madder root which was only affordable by the high society.
Egyptians were already using vegetal blend to create ink. Use of vegetal allowed the diffusion of communication and made possible the emergence of great civilizations. Iron-gallic ink recipe passes through ages and it's only in 1850 that it has been replaced by synthetic ink. Voluptuous and indelible, iron-gallic was the ink of Montesquieu and the Human right declaration. It can be used even after one hundred year if well stored and protected from light!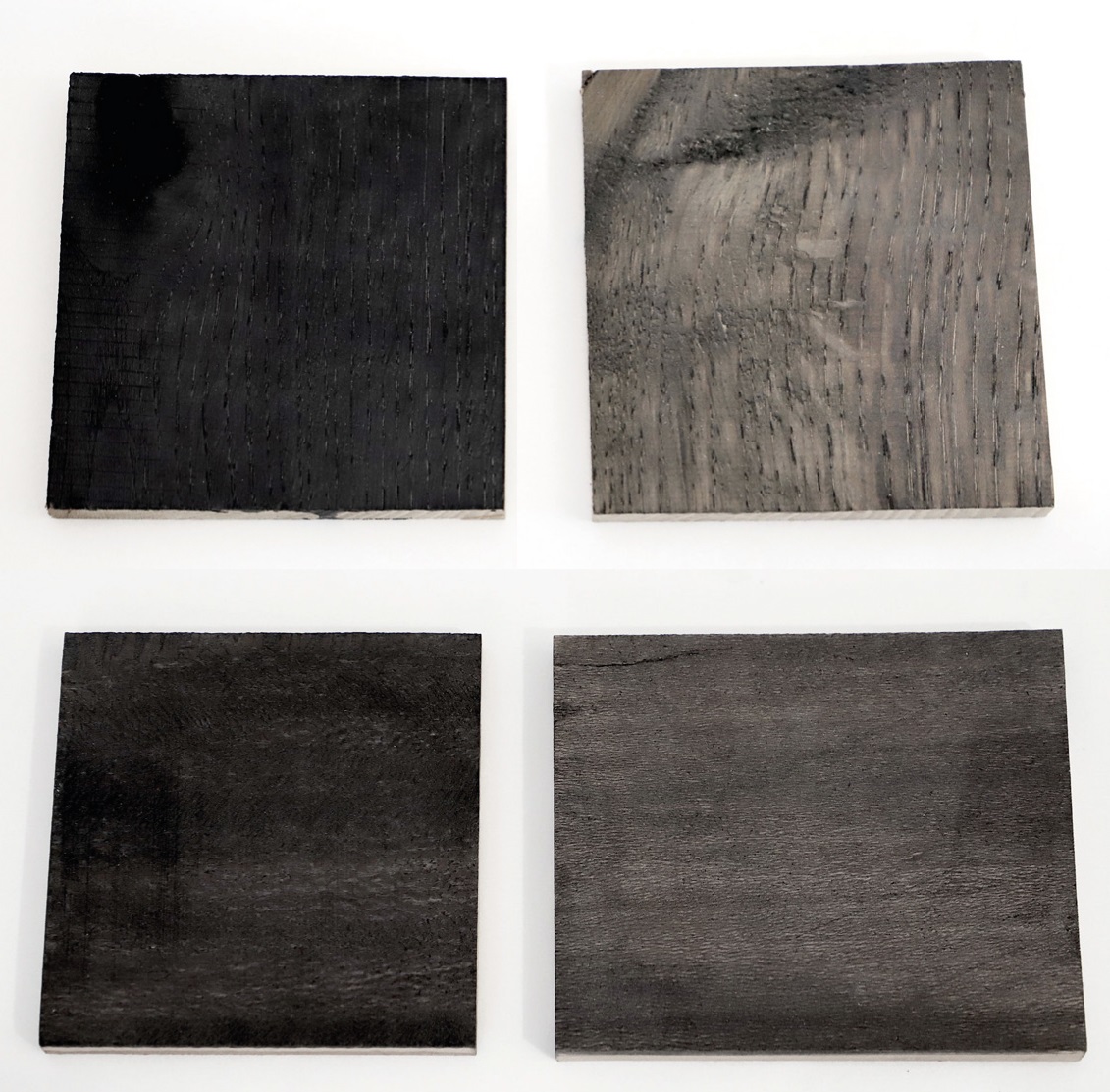 This ink has something magic, and this is where I start being fascinated by natural dying, when iron-gallic enter in contact with the paper it goes from green to
dark instantly. A chemical process start: it is called oxidation. The oxygen in the air interacts with molecules of iron and acid present in the gall nut. The surface its passing on is oxidized and become black.
From those magical transformations, I develop my own black dye. Using mainly oak because of its tannin, I start to play with iron sulfate and vinegar. By adding cachou roots, oxidation was even more powerful and the result was a beautiful purplish black. An obsession for colors reaction on wood started to emerge, to never know what could happen and always being surprised made me curious and dived my research. Then wood became a surface to play with chemical reaction as patina on bronze and copper. By using oxidation reaction, I am translating wood into a precious alloy.
Dying oxidation works thanks to a reaction compound of three factors: Oxygen, Acid and Metallic molecules. Used in vegetal dying, metallic molecule help fixes colors deeply inside the fiber. A Vegetal color reaction is different depending on the way it rust. Below a small list of principal reaction on oak wood :
Metallic molecule bite
1.Iron sulfate
2.Titanium oxalate
Color
Night-blue black
Orange
"La patine est l'écorce de la sculpture, elle la protège et la sublime" Attali – Pollès
As a bronze sculptor, natural dying allow playing with colors and reaction that doesn't exist on the market. It's a real chemistry. Wood surface seems to become alive, veneer appear and disappear under several stained layer. During dying I like to trust in intuition, different vegetal are used to extract the magnificence of a wood slab. Iron is used to create shadows and Alun bring colors to another level.
Hot water in sufficient amount can generate gradient between two colors, melting together a new finish can appear. Not controlled pattern can be also generated with this technique. The natural material becomes a surface of multitude exploration, like an astronomer looking at space.

In my process, raw wood furniture is a first step. After assembling pieces together, they are carved by hand with a mechanical tool. I have always been fascinated by surf shapers and this black room with neon light to visualize the perfect curve. I like to feel a material alive. In carving all junctions by a natural movement, veneer connects each other and the piece is like made in one massif block. But connection can be seen and the illusion is not. So to accomplish the trick a second processing step was to stain the entire furniture.
With oxide black dying, the furniture appears as an entity. Like a contrasted drawing made with one single pencil line. Line runs through the edges and curved surface takes each gleam of light. Its last process is made in five steps. Each step requires one hour to dry before adding another stain layer. To stop the chemical reaction and fix it in time I use 95° varnish alcohol. Once again you must wait before adding the first layer of wax. 24h is required to let the wood breath and fully stabilize the dye.
But this wish to use vegetal colors rather than industrial already prepared bottle is also to better understand my environment. Taking in consideration what is growing around me and how I can take benefit of it. My studio is born around an ambition of local creation. Wood is a natural material that bring inside of its roots all the history of a territory, work with its local resource requires a naïve respect. That wish brought me to explore a vegetal chemistry without any knowledge. Inspired by vegetal dying in textile, I made my first indigo tank and started to play with natural element. Oxidation is part of a process to tell the story of an ancestral material passed through the ages. Like patina on brass, it brings instantly years of outside life and reveals the secrets present inside its veneer.
At the end its vegetal chemistry is a color game made of recipes and time. Depending on temperature, humidity and feelings a creation can be significantly different. Natural elements are not inside a controlled room. This unique process takes subtle variations made by nature, crystalized on a surface and catch a present moment for generation. A real collaboration appears once you forget to have everything under control, as a discussion between two biological elements: Nature always has the last word.