Behind The Scenes : Kaaron
Behind the sceen by Kaaron,We are acrobat seeking to SEE.
Seeing is for us an understanding of a balance setting a function.
When we draw it is not the pragmatism and the obviousness of a function that motivate us, but rather the story builded around an object.
After a drawing, a story begin. By the meeting of art craftsmen and their knowlege, choices of noble materials, listening and weaving human value, matter takes a shape of a symbolic depth.
In this story of depth, it reveals us awake ! a chasm quetionning technical aspect that becomes sometimes a fall ! a burst becoming a center of a weightlessness where suddenly a form emerge !
Sharing with the matter a simple joy which goes to admire her raw aspect, it's beauty and it's complexity, her mystery, to her metamorphosis.
We then become craftsmen at the servise of intuition.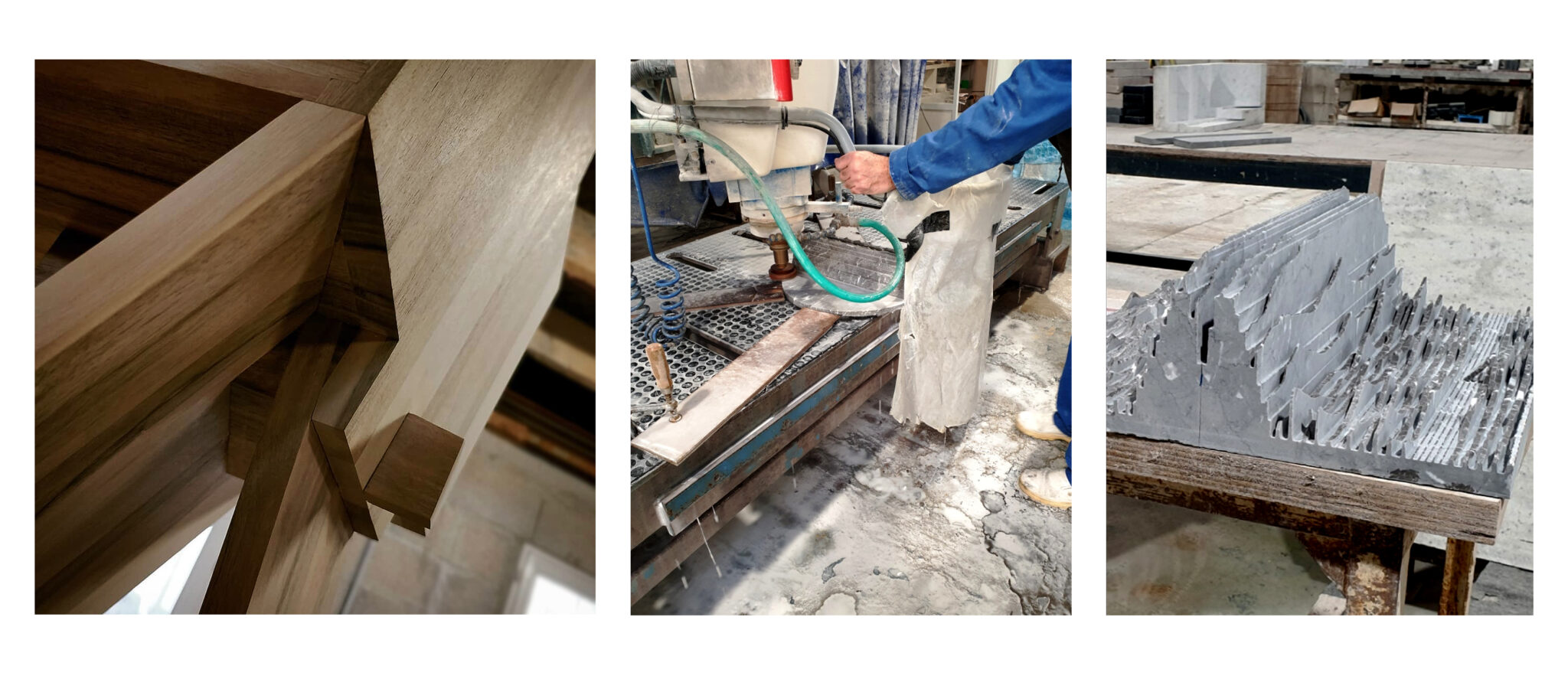 The technical challenge is alwways a part of an adventure that we propose to the craftmen.
We question the machining and the potential mecanic game of the hand made.
In this reflexion as much as for them as for us it enriched a dialogue offering another way of seeing and making.
By choosing marriage betwenn others materials we salute complementarity know-how a way of experimenting balanced : wood and stone, glass and stone etc. Then furniture and object answer to a domestic archichecture.
We imagine them as the little center of dialogues contains into void and we approach them as if they were not to reveal their technical complexity.
We are particularly watchful towards the game of feasible and impossible.
We explore by the drawing the purity of the assembling matters. This idea that tension creates a balance without trying to fall into an obvious aesthetic.
We are not looking for the sophistication of matters because we cherish their life contained.
The wood will be simply waxed, marble with an antic polished, blown glass left with his impurity…
By then, the dialogue betwween a machined object and a hand made object becomes obvious.
Closer to the heart.
In conclusion, we give them names like if each one belongs to a filiation from the same family.